Hey Y'all. It's my first time spending a Thursday over at
AWKWARD AND AWESOME
. But I'm sure it won't be my last. (Although I think I just read that
THE DAYBOOK
may no longer be doing this, but oh well) I found out about this through Anna's Blog
JUST ME
. (Thanks Girl!)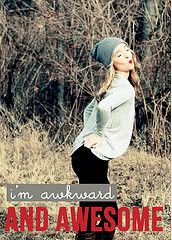 So I thought I'd talk about something that is Awesome. With a side of Awkward.
My feet and the strangers who love them.
Awesome:
I think my feet are kind of awesome. I like my feet. I like to take pictures of my feet. A LOT. Call me a weirdo, if you must. (*I only like my feet when they are pedicured and pretty, not when they are all tore up - BTW) I like my long toes. And the shape of my toe nails. I like the way my foot looks with a toe ring on. I even have a beauty mark on my right foot. (Fancy word for mole) Even though I have big feet (size 10) I think they look really good on camera. I have this fantasy of becoming a foot model someday...
Awkward:
Now here comes the Awkward part. I have uploaded these here photos onto my
FLICKR
account, like I do with so much of my photography. And some of these shots have gotten a lot of looks 15,000ish or so. But the people who are looking, aren't your typical peeps. They are foot fetisher... Ahhh Awkward. I get these "more normal" comments like, "You have Perfect Feet" to the truly awkward comments, "Your feet are mesmerizing me, somebody slap me" and "your feet take my breath away" and "Those are the sexiest feet/toes/pedicure I ever saw... you are a Goddess can we see more?" and finally the classic "I would have fun giving you a foot massage." Awwwkward much or anything!!!! lol.
Wanna see why they call me a "Goddess?" Check these babies out...
Don't you wanna give me a foot massage now too?